Movienizer can add information about movies and persons in a number of ways.
To add your DVD using its barcode, click the "Add movie" button, as usual:
This will start the "Add/update a movie" wizard. Choose the "Add a DVD by its bar code" option.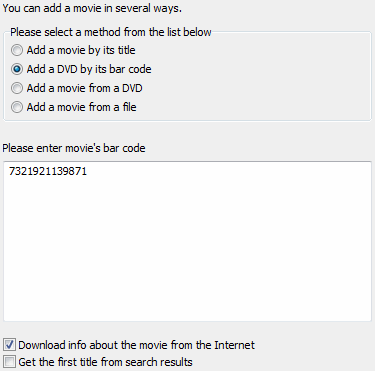 Type the barcode into the white field, as shown on the screen shot above. You can also use special scanners that read this kind of information automatically.
Insert the DVD into your DVD-drive (you can skip this step, but it will retrieve various technical data from the DVD). Make sure that "Download info about the movie from the Internet" box is checked. Click "Options" if you want to download information from another online movie database.
You can enter scan your DVD and enter the barcode information later, on the "Editions" tab of the "Edit info" dialog.
Click "Next". Select your DVD-drive.
The program will read technical information from the DVD, showing you a summary. Click "Next" to retrieve movie details. Depending on your internet connection, this process may take some time.
Finally the program offers you to review and edit the retrieved information. Make sure that the "In collection" box is checked, specify the location of your DVD, click "Save" to complete the process and to save information about the movie into your database.
Movienizer saves information about files and can later play the movie in its built-in player, or in your default player.