Movienizer can store various information about movies from your collection and about people (actors, actresses, directors, writers, composers). As you can have several copies of the same movie (for example, Director's cut, Theatrical cut etc.), it would be convenient to store this information, too. On the other hand, the information refers itself to the same movie, so it's not reasonable to create several entries.
That's why Movienizer introduces editions. In the "Edit info" dialog, click the "Editions" tab:
You will see a page looking like the following: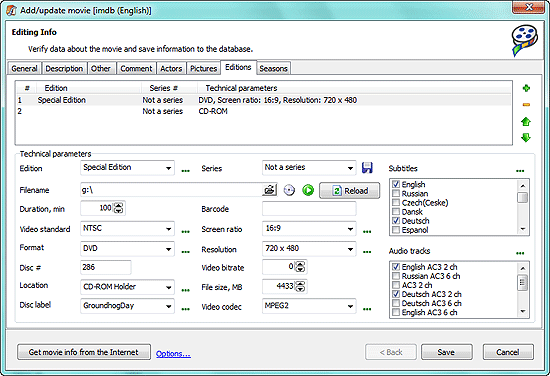 When you add a movie to your collection, Movienizer automatically creates at least one edition. This edition has no name (but you can easily add one, see the "Edition" field) and contains information about your physical media (DVD, AVI file etc.). If you didn't let the program scan any media when adding the movie you can do this now. Just browse for the file or DVD and click "Reload".
Add or remove editions by clicking the green plus or yellow minus on the right. Move editions up and down the list, if necessary.
On this tab you can also specify disc# and location of your media.
For TV series, a file can be added for each episode (see the "Series" dropdown list).
When playing files with the built-in or with an external video player, you can select which edition should be played by clicking the arrow near the "Play" button on the toolbar. Then select an edition (or an episodes of a TV series) from the dropdown list: