A fast tool for screen video and screenshots
Screen Recorder Studio is an efficient tool for making fast screenshots or capturing video from your computer screen or webcam. This program's key feature is that it is extremely easy to manipulate as all of its settings are easily adjusted with just a few clicks, so it will take you only a few minutes to master the program.
Screen Recorder Studio easily switches between the two modes: video capture and screenshots. Each mode features similar visual tools that allow you to add notes, text, rectangles, lines, other geometrical shapes, and arrows. The toolbar is located on the left and also has an 'Undo' button on top.
The toolbar icons and many other settings, such as the output format, video, audio (microphone), and camera settings can be easily adjusted which speeds up the process and makes helps you create files in the exact form you want them by default.
Screenshot mode
Screen Recorder Studio offers multiple ways of saving screenshots and videos. Screenshots can be
uploaded to an HTTP server (you will receive a link)
copied to the clipboard
saved in the default or set the output folder
The Premium version not only switches off ads when uploading screenshots and videos on a server but also allows to upload data on an FTP.
The program supports three image formats: JPEG (by default), BMP, and PNG. The latter two are only available in the Premium version.
Video capture mode
The video recording mode is only slightly different. The differences include the 'Play', 'Record/ Stop', and 'Pause' buttons. During the screen video recording, the frame will be lit up (the color can be manually adjusted).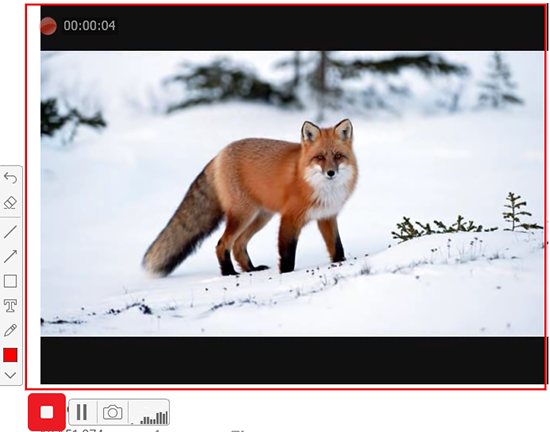 Supported video formats include the following: AVI, MKV, MP4, M4V, MOV, TS, and VOB.
A unique feature of Screen Recorder Studio is that users can log into their YouTube accounts and upload videos directly after they are finished recording.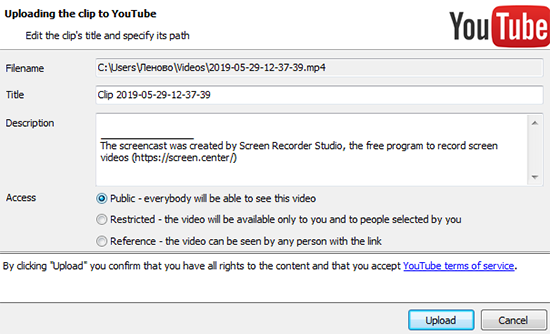 Advantages
Intuitive interface.
Add notes or draw arrows on screenshots.
Capture screen and webcam videos.
Hotkey support.
Save screenshots and videos on your computer or online.
Upload your videos directly to YouTube.