Visual MP3 Splitter & Joiner is an advanced tool that can split MP3, WAV, WMA files in a number of ways. It also contains an MP3/WAV joiner.
Using the program, you can easily split MP3 by CUE, split WAV by pauses, cut your audio by time, size, parts etc. But, as its name suggests, it allows you splitting MP3 and WAV files visually. As you open an audio file, Visual MP3 Splitter & Joiner builds its waveform. You can select parts directly on the waveform, using the built-in player to preview results.
For greater flexibility, it offers two different modes for visual splitting. In one mode, you can select parts to extract with the left and right mouse buttons, then click "Add" to add the selected part to the split list. After selecting all parts, you click "Split" to get split parts.
The other method is better for quick split of MP3 and WAV files. You simply click the waveform with the left mouse button, and Visual MP3 Splitter & Joiner automatically adds two parts to its split list. So, with this method, instead of selecting each part separately, you set split points.
Let's take a closer look at this mode.
Add a file that you want to split. You can use the "Add file" button on the toolbar, or simply Drag&Drop the file from Windows Explorer.
On the toolbar, you can find the splitting mode button on the right to the "Stop" button (highlighted on the screenshot above). After clicking it you get a dropdown list:
"Precise marking" will take you to the mode that requires more clicks to split the file.
"One-click split" is easier and suggested by default.
If the second option is selected, you can simply scroll the waveform to the part where you want to set a split point. Then simply click the waveform.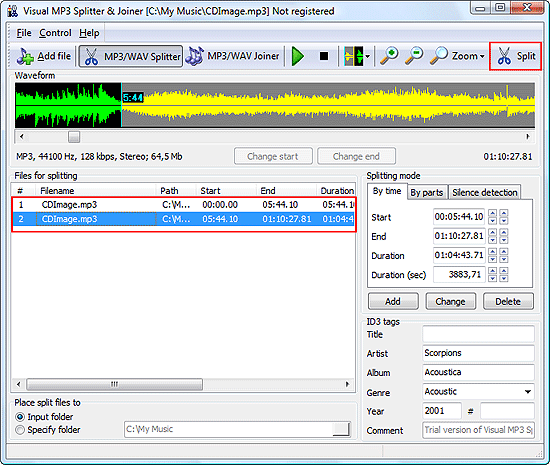 Two parts will automatically be added to the split list (highlighted on the screenshot above). If you need only two parts, you can now simply click "Split" on the toolbar to get selected files. The source file will remain intact, the parts will be extracted as new files.
If you need more than two parts, you can scroll the waveform and set further split points. Parts in the split list will be adjusted automatically.
If you clicked the waveform in a wrong place, it is easy to remove created parts. Just click the corresponding part in the split list and hit the "Del" key. It is also possible to adjust start/end time of each part by adjusting time on the right pane. Don't forget to click "Change" after your adjustments to apply the changes.
Of course, instead of splitting the file, you can simply create a CUE sheet.