For general information about CUE file, or CUE sheet, please read "What Is CUE Sheet?" section. For now, let's see how we can save that kind of file with Visual MP3 Splitter & Joiner.
Firstly, we prepare parts for split and add them to split list. We've done this earlier. For now consider that we have the list already, but the "Split" button isn't clicked yet.
We go to menu "File", select "Save CUE file", and type into conventional "Save file" dialog some name for the file. Then click "Save" button.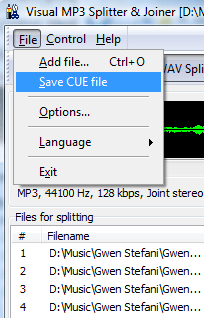 If the file is successfully saved, we can close the program. Information about parts won't be lost. If you later decide to split your audio file anyway, just open it, then click "Add file" button again and open the saved CUE file. The result of your previous work will appear in the split list. Now you can do the last step by clicking "Split" button.
A good thing about CUE files is that they are very small. If you want to preserve your original audio files, this may be the best option.