With Movienizer you can easily create your own database of movies from scratch. Just use "Add movie" and "Add person" dialogs to download information about your movies and about persons from the internet. You can store location for each disc (along with the disc#) and each edition of the movie and play movies directly from the program.
However, if you used another movie catalog program, you may want to transfer your existing database to Movienizer without entering all those movies all over again.
Movienizer offers two methods of doing that: import from a text file (mainly CSV) and import with the help of plugins. The later method allows transferring your collection automatically, which is quite convenient. On the other hand, plugins are specialized tools that will only work with the supported database, so there is always a limited number of them. At the same time, import from a text file can be used virtually with any program.
If you want to import your collection from a program supported by plugins click "Plugins" – "Transfer data from other catalog programs":
This will open the following window:
The program automatically detects available databases in your system. If a database supported by some plugin is present a green checkmark will be shown near the name of the plugin. Just select the corresponding plugin from the list and click "Import".
This will open a new window: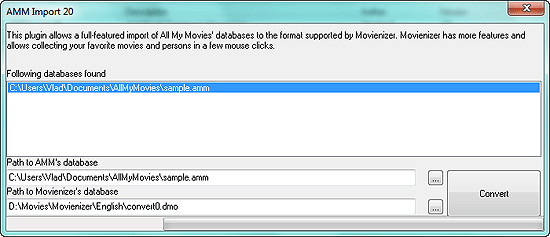 Here you can select between various detected databases or even enter a path to an existing database if it hasn't been properly detected. The plugin will suggest a name for your new Movienizer's database, but you may want to change the name to something more appropriate. When everything is set click "Convert" in the right lower corner.
All information from your former database will be transferred to Movienizer.