Audio files contain additional fields for meta information, like artist, title of the song, album etc. This meta information is often referred to as ID3 tags. Visual MP3 Splitter & Joiner can equip its output with this kind of information, and we've already seen how the splitter deals with ID3 tags.
Joiner behaves similarly. However there is only one output file now, and many input parts. So, what happens?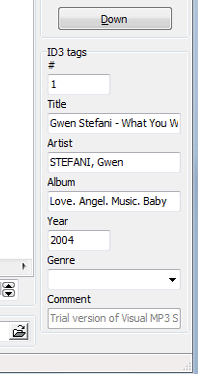 The program takes ID3 tags from the first added file. If it has none, you may need to type desired information in by yourself. However if some part already has the needed tags, you can simply add it first and then move it down to its place with "Down" button.