mp3Tag Pro can read and show tags of music files when you open a folder containing such files. For the sake of simplicity we discuss reading ID3 tags of MP3 files, but everything described in this article applies to all supported formats: FLAC tags, APE tags, OGG tags, M4A tags, etc.
In the "Folders" area on the left, you can click a folder to select it. mp3Tag Pro reads the contents of the folder and checks if there are any music files that it should display, according to the selected items in the "View" – "Show files" menu.
Additionally, the tag editor reads ID3 tags of the audio files and displays them in the file list:
We can reorganize columns by dragging them to the desired positions (for example, we can insert the "Track #" column between the filename and the title columns). Right-click a column title to select columns to be displayed:
Tags can be edited directly in the list. Just click the corresponding entry and make necessary adjustments:
Press "Enter" to save your changes.
Alternatively, tags can be edited in the "ID3 tags" area, both for individual files and for groups of files.
While showing information from ID3 tags in the list is a nice feature, reading tags for a big group of audio files may be time consuming. To speed up file access, you can disable this feature. This may be especially useful, if you need to process big batches (like 10000 songs).
Select "File" – "Options":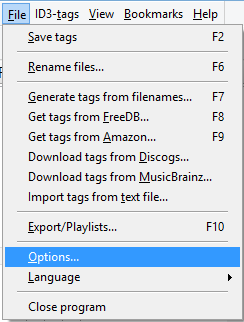 This opens the settings window. Switch to the "View" tab:
Find the "Show tags in the list when opening a folder" option and uncheck it. Then click "OK" to apply your changes and close the window.
Now mp3Tag Pro will not display any tags in the list:
Still, you will be able to view and edit tags in the "ID3 tags" area.
With this feature disabled, mp3Tag Pro will open folders containing huge groups of audio files much faster. For typical folders (individual albums etc.), there will be no significant difference.