mp3Tag Pro is a powerful MP3 tag editor that supports tag processing and renaming of MP3, WMA, WAV, FLAC, APE, OGG Vorbis, AAC, WavPack, MPC/MPP/MP+, and M4a/MP4 files. Both ID3v1 and ID3v2 tags are supported in MP3 files:
By default, mp3Tag Pro reads and saves both ID3v1 and ID3v2. In this way, the tag versions are always synchronized, which is convenient. Besides, if mp3Tag Pro is set to save ID3v1 only, saving tags is quicker, but all benefits of ID3v2 such as lyrics, album art, custom genres, and so on are lost.
Any field of ID3 tag can be changed simultaneously for a group of audio files. Some fields may contain repeated information (i.e. information that is the same for a group of files), for example, album, artist, year etc. It is convenient to enter such information only once.
Select all files that should be processed.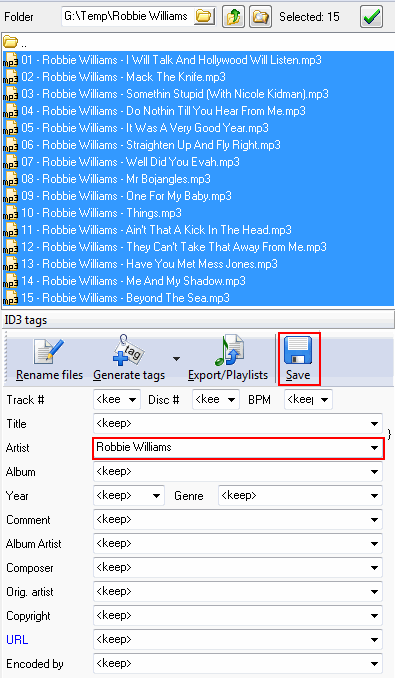 Fill out the field that should be changed. You can type in or insert any text from the clipboard. If more than one field has to be edited, just fill out all necessary fields.
Click "Save" on the toolbar, or press "F2". Adjust the encoding, if necessary.
mp3Tag Pro supports fields' history, which means that it can remember what you type and then suggest it from the dropdown list. This option is not active by default, but you can activate it in "Options".
This method of editing tags can be used for any number of files, and you can change all available fields at once.
mp3Tag Pro can do much more than this. If there is no information in ID3 tags, you can download it from Amazon, Discogs, MusicBrainz, or FreeDB, import ID3 tags from a text file, generate tags from filenames. The program is also capable of downloading lyrics and cover art for your collection of songs. It can rename audio files and organize them by creating a folder structure according to your pattern.