The MP3 tag editor can tag your audio files with information like title, artist, album, year etc. There are several ways to obtain such information:
mp3Tag Pro downloads ID3 tags from Amazon, FreeDB, Discogs, MusicBrainz. It can also download lyrics and album art automatically for any number of music files.
In order to download tags from Discogs, select all tracks of an album. On the middle toolbar (in the "ID3 tags" area), click the arrow next to the "Generate tags" button. This will open the following dropdown menu: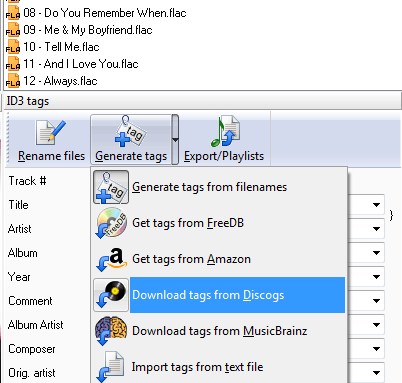 Click the "Download tags from Discogs" item. This will open a new window showing selected files and some basic controls. Take a look at the "Artist" and "Album" fields:

If your files have some information in their tags, the fields will be populated automatically. Alternatively, you can enter this information by hand. It is sufficient to fill out just one field, but providing more information will let the program retrieve more relevant results.
Click the "Get albums" button to send a query. mp3Tag Pro will show a dropdown list of albums related to your search.
Select an album from the list. ID3 tag information will be immediately shown in the preview list. Check if everything is correct (depending on the album release, additional bonus tracks may be available, and also tracks may be in a different order). To save the downloaded tags, click the "Save tracks info" button at the bottom of the window. mp3Tag Pro is capable of saving Unicode and normal (ANSI) tags.
Now you can use the downloaded information to rename and sort your music files.