MP3 Recorder Studio can record sound from any device. We discuss this in detail for Windows Vista, but as Windows XP has different controls, some additional screen shots are required.
First of all, click the "Set recording device" button.
The usual system volume mixer will pop up:
Click "Options" – "Properties".
Select your sound card, then select "Recording" in the "Adjust volume for" area. Find and check "Stereo Mix", "What U Hear", or any similar name in the list. Click "OK".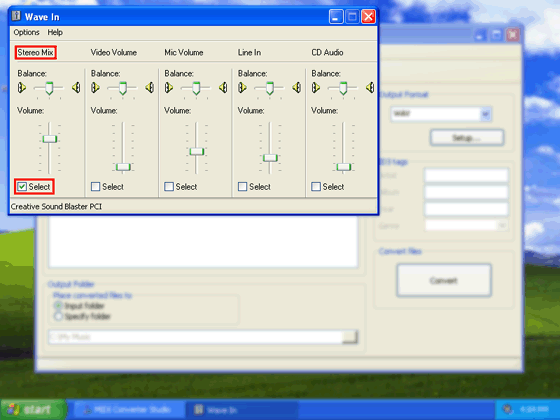 Make sure that the option is selected in the mixer and adjust its volume.
You can experiment with different controls, if "Stereo Mix" or "What U Hear" is not in the list. Use MP3 Recorder Studio to find out which control will allow you to capture every sound on your computer.