Movienizer searches movie databases and other sources on the internet to fetch information about movies and persons. However, you can fully customize the content of your own database, specify location of your discs and cassettes, add your own descriptions, pictures, snapshots.
To add snapshots to some movie, find and click its title to show details page.
As next, click "Play a file" button on the toolbar:
The built-in player's window pops up (unless you specified to use an external player in the "Options" menu). Use the file menu to open either a video file, or a DVD.
Note: If the file cannot be opened, please make sure that required codecs are installed on your system. The built-in player depends on the codecs installed in the system and will play files that can be played by Windows Media Player.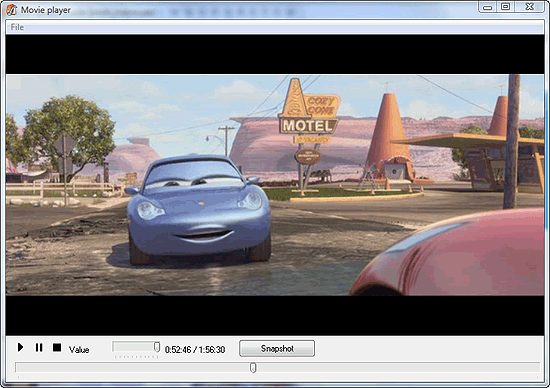 Find the moments you'd like to save as snapshots and click the "Snapshot" button. The captured images will be added to the details page of the movie.
Alternatively you can add snapshots while editing information about the movie, on the "Pictures" tab.