General Settings
Music Duplicate Remover will help you eliminate duplicate files on your computer. It can compare audio files by sound or by ID3 tags and properties. The program comes preconfigured, so you can remove duplicates in just a few clicks. However, it may be handy to adjust grouping options, so that the program automatically recognizes files that you'd like to keep and marks for removal files that you don't need.
Further customization is provided by the main settings menu.
Click "File" - "Settings":
This will open the "General" tab of the "Settings" menu: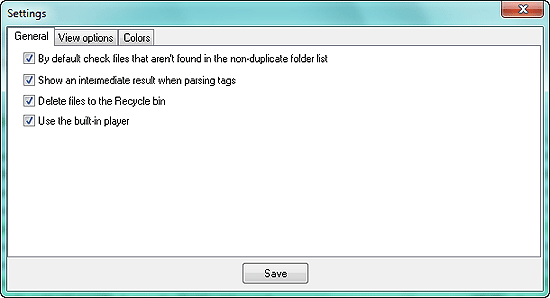 Here we can see several options:
View
The next tab is called "View options". Let's open it: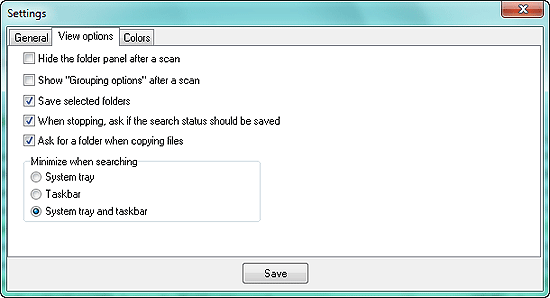 The tab controls behavior of the visual elements of Music Duplicate Remover.
Hide the folder panel after a scan - will hide the directory structure area (the left panel), after you press "Find duplicates". This will make more room for the list of duplicates. In order to get the area back, just depress the "Folders" button on the toolbar.
Show "Grouping options" after a scan - will go to the "Grouping options" tab after scanning selected folders for duplicate files. This will allow you to sort duplicates.
Save selected folders - will store information about selected folders between sessions, so the folders that you select now will be selected the next time you start the program.
When stopping, as if the search status should be saved - Music Duplicate Remover can save information about the current unfinished scan to a file. This information will be used next time to continue the scan instead of rescanning all selected folders again.
Ask for a folder when copying files - will display a dialog allowing you to select a folder where duplicates should be copied or moved.
Minimize when searching - here you can specify how the program should be minimized when it is searching for duplicates (and you press the "Background" button). Music Duplicate Remover can be minimized to the system tray (aka notification area), to the taskbar, or to the both.
The last tab of the "Settings" menu is "Colors". Here you can specify font and background colors for various items of the duplicates list. This will help you easily distinguish between different elements.
Music Duplicate Remover comes with preinstalled colors, but you can customize them on this tab.